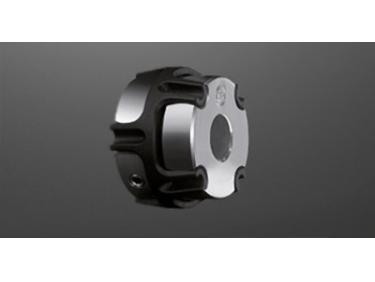 COUNTEX®
Product characteristics
• Backlash-free, torsionally stiff shaft encoder coupling
• Maintenance-free
• Axial plug-in
• Electrically insulating
• Shaft diameter up to Ø 14 mm possible
• Ambient temperatures from -40° C to +160° C possible
Coupling description

COUNTEX® is a three-parted, backlash-free and torsionally stiff coupling mainly used in measuring and control technology. Its axial plug-in ability combined with the geometry of hubs results in a coupling system with a specifically easy assembly offering options of mounting fitting with processing.
Additional Information
The measuring and control technology demands for a high torsion spring stiffness of the coupling in order to realize reproduceable positioning. The torques that arise are relatively low so that a backlash-free, torsional stiff power transmission is achieved subject to the elastomer prestress. The double-cardanic principle of COUNTEX® reduces the restoring forces to a minimum.
Dimensions